| Item ID | Starting Bid | Bids | Current Bid |
| --- | --- | --- | --- |
| 86305 | $60.00 | 0 | $0.00 |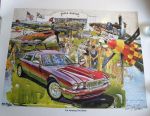 Cat Among the Birds - Poster as remarqued (signed)by Ken Dallison, printer's proof, #24 of 50, H - 23 inches, w – 28 inches.
About the Artist:
Internationally renowned fine artist Ken Dallison was born in London, England and attended Twickenham Art College on a scholarship. Ken has an affinity for Canada having immigrated here in 1955 and living in Mississauga before moving to his current home in New York city. He taught at the Ontario College Of Art and Design in Toronto, and has lectured at the San Francisco Academy Of Art and the Smithsonian Institute. Ken spent his teen years drawing cars. As an adult, he has received commissions from collectors, automakers and the world's finest concours d'elegance.
Ken has done detailed fine illustrations for Car and Driver, Road & Track, Cycle magazine and numerous other prominent automotive titles. He created a series of 28 historic aviation airmail stamps and "Classic Car" and "Horseless Carriage" letter stamps for the U.S. Postal Service. His non-automotive work h1s appeared in Esquire, National Geographic, Redbook, Sports Illustrated, Yachting and for the Smithsonian Air and Space Museum.
Ken's commercial clients include American Airlines, Boeing, IBM, US Army, Navy and Air force; Mercedes Benz, Toyota, Honda, General Motors, Chrysler and the Indianapolis speedway.
Ken's numerous numerous awards include the 1970 Gold Medal from the Society Of Illustrators, Cleo from The Art Directors Club NY, a Canadian Association's Lifetime Achievement Award in 1994, Athena Awards of Excellence in 1990, 1995, 2001 and 2003, and two Gold Medals from the Detroit Art Directors Club. His paintings hang in museums and private collections across North America and Europe.
Donated by Ken Dallison through Jim Robinson